On 8th October 2019 S.V TravelEdge will sail out of Plymouth on the eXXpedition Round the World maiden voyage leg: Plymouth to Azores with Rothys.
As an innovative and sustainable footwear company that shares many of our own values, we were really excited when the team at Rothy's approached us to support the first leg!
Their shoes are not only really cool, but incredibly designed to mitigate plastic waste, and in their own words are:
"inspired by the remarkable women of today. Those who write their own story, pursue their own passions. Women who wear Rothy's include teachers, scientists, nurses, chefs, athletes and so much more. We're thrilled to offer beautiful, comfortable, washable, sustainably made shoes to women of all walks of life."
We couldn't think of a more fitting partner for Leg 1!
Rothy's take a holistic approach to sustainability, from materials to production they consider sustainability every step of the way. They have re-purposed over 40 million plastic bottles and spun them into thread to 3D knit shoes. Their innovative 3D Knit production means they knit the shoes to shape, resulting in far less waste. Rothy's also fully own and operate their manufacturing workshop, giving the flexibility to be nimble and thoughtful around which shoes they produce, in small batches, resulting in zero overproduction. This is rare for the apparel industry.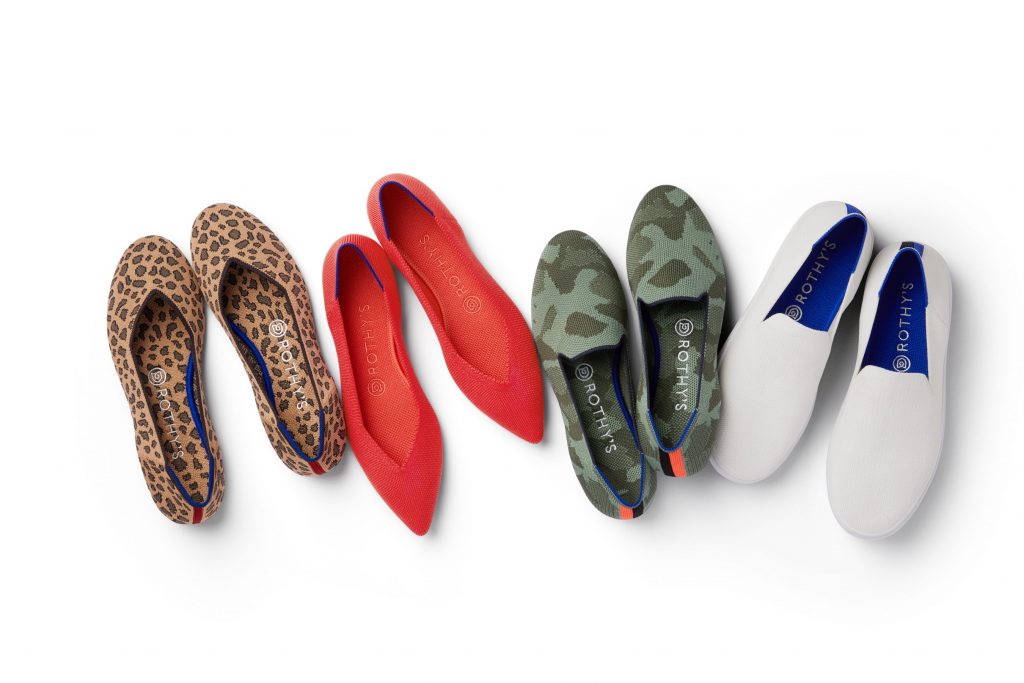 In terms of shipping, their shoe boxes are sturdy enough to ship on their own—no box-in-box shipping, which has resulted in 400 tons of cardboard saved. The shoe boxes are made entirely of recycled materials, and they're fully recyclable. They also offset carbon emissions by partnering with The Envria Amazonia Project: A Tropical Forest Conservation Project (via carbonfund.org). The Envira Amazonia Project is a payment system for ecosystem services forest conservation, and it protects nearly 500,000 acres of tropical rainforest. So far they've offset over 10,000 tons of carbon through our partnership with Carbon Fund. That's enough to drive a car 30 million miles—or over every road in the USA more than seven times!
The shoes are carefully crafted to last a long time (and they're fully machine washable!), three times longer than a typical pair of flats. Rothy's purchased in 2016 have walked an average of 1,000 miles – that's like walking from San Francisco to San Diego and back again!
We would like to say a huge thank you to all our partners and sponsors, we could not complete our mission without their support.
Rothy's now ships to international markets— including London!
Find out more about Rothy's here, and follow along the first leg of our journey setting sail October 8th. 
Navarino technology keeps eXXpedition online wherever we go.