It has been a tricky time for creating change on plastics, as the world has pivoted to take on the threat of COVID-19. However, some of our ambassadors have found ways to continue to make an impact. Nearly two years into the pandemic, we invited Lara Hoad, Camila de Conto and Rachel Labbe-Ballas to share their stories in the SHiFT Community Hub. 
Lara Hoad
Lara Hoad is an architect, designer and educator, and for over a decade has been teaching sustainability to college level design students in Los Angeles, California. Many of her educational projects explore the role of design at the intersection of the built environment and the communities that they serve with a focus on raising awareness and changing behaviour around the issues of single-use plastic pollution.
During the COVID-19 pandemic, Lara continued her work with plastic pollution. After becoming a Climate Reality Leader in 2020, she partnered with the Los Angeles Climate Reality Plastics Committee to address the mounting issue of disposable, non-recyclable Personal Protection Equipment (PPE) as a result of the pandemic. The Plastics Committee aimed to educate communities about the impact of single-use PPE on the environment, debunk myths about single-use PPE, and inspire the public to use re-usable masks. Lara worked with students to create original artwork that could be used as social media content for the committee to inspire change. 
Camila de Conto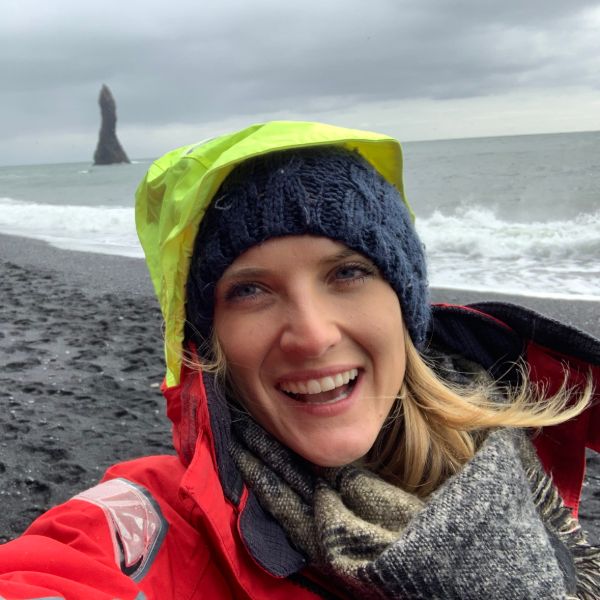 Camila de Conto is Brazilian by birth, Italian by blood and world citizen by heart. Until very recently she was living in the Caribbean island of Curaçao, where she found her peace close to the ocean. After setting up a project to 3D print face masks from recycled plastic on the island, she set sail with her partner and is now supporting the work of another ambassador Juliet Calvalhal and her organisation Impact Blue in Aruba.
After setting foot back on land after Leg 6 of eXXpedition Round the World – Panama to the Galapagos – Camila planned lots of talks to raise awareness of plastic pollution in the Caribbean island of Curaçao where she lived. Sadly, her plans were abruptly interrupted as the pandemic took hold which led Camila to approach Green Phoenix – a social enterprise that is creating a circular inclusive economy in the Caribbean.
During the COVID-19 pandemic, PPE became essential and were in high demand. The traditional supply chain couldn't keep up and 3D printing offered a solution for several of these products. On Curaçao, Green Phoenix formed a taskforce to locally produce low-cost PPE during the COVID-19 pandemic. Using her background in engineering and knowledge of plastic pollution, Camila helped the taskforce to design, engineer and print face shields, ear guards, respirator masks and door handles. The products were tested and shown to health inspectors for approval and were subsequently used widely among health care workers on Curaçao throughout the pandemic.
Read more about Camila's work during the COVID-19 pandemic here.
Rachel Labbe-Bellas
Rachel Labbe-Bellas is a Marine Ecologist and has a BSc in Biology from McGill University and a MSc in Ecology from UFSC in Brazil. During her studies she gathered international experience, working at places such as Smithsonian Tropical Research Institute, and more recently as a Research Associate at Scripps Institution of Oceanography. Her passion for ocean advocacy led her to work with the Sylvia Earle Alliance/Mission Blue, and participate in a 21-day all-female research voyage about ocean plastics and health impacts with eXXpedition. Rachel is currently working in development and science program management for 5 Gyres Institute, and spends her free time in entrepreneurship for her plastic pollution reduction start-up in Canada, The Green Stop.
Following her voyage with eXXpedition in 2015, Rachel embarked on a mission to create water-refill stations to reduce single-use plastic bottle pollution. Prior to 2020, the project was gaining momentum and proving a big success, particularly at Montreal's largest summer festivals, Osheaga & Ile Soniq. At the same time, public awareness of plastic pollution was growing and it seemed that everything was lining up nicely. Then the pandemic hit and Rachel's plans for the start-up were scuppered.
Although it was initially devastating, Rachel now looks back on it as a blessing in disguise. The slower pace of life that came with COVID allowed her to reconvene, find a business partner, rebrand, secure government funding and hire interns to expand the team. In addition, Rachel pivoted her model to include hand washing facilities in response to new regulations and protocols that have been introduced as a result of COVID-19.
Since events such as festivals have started to return, Rachel has noticed a buzz about her fountains because they're touchless and have panelling to keep users a safe distance apart. She notes that more and more people are now aware of the urgent need to look after our planet which makes it an exciting time to get your innovations out there.
---
More about SHiFT Hub Events
eXXpedition runs regular events for our community and beyond. Keep an eye on our social channels for updates on upcoming public events, and browse our blog to find out the highlights of our community events and keep up with eXXpedition news.
Thank you to 11th Hour Racing who are supporting this work.