On Friday 27th September we had a fantastic day with guest crew from eXXpedition Round the World on a Sea Survival Training.
Sea Survival Training is a one day course where seafarers get to find out more about how to use the safety equipment on board a boat and survival techniques. Paul from City Sailing provided this training for a number of our Round the World guest crew last Friday, which was held at Aspire at Southfields.
The day started with an excited buzz in the room as many of the Round the World guest crew met each other for the first time!
In the morning, Paul took us through the ins and outs of the safety equipment found on board S.V. TravelEdge. We developed our knowledge of survival techniques and the search and rescue procedures, including crew investigating flares and their uses, Yanika Borg form leg 2 modelling proper life jacket use and all of us clambering in and out of life rafts.
In the afternoon we stepped it up a notch and jumped in the pool to put the theory into action.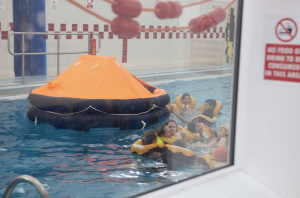 We had the more challenging task of clambering into life rafts from deep water and all of us managed to find the strength to flip the 8 person life raft the right way up. Whilst half the crew created a 'storm' in the water the others managed to successfully rescue an injured person and get them in the life raft.
All of us grateful for the opportunity and a lot more familiar with good and safe practice, and each other!
Although 99.9% of those afloat will never use their life raft (www.rya.org.uk) or need to action the survival techniques we wanted to take the opportunity to offer this extra training whilst many of our crew were in London for the eXXpedition Summit.
Safety at sea is a top priority for eXXpedition and all crew are fully briefed before they set sail.
Navarino technology keeps eXXpedition online wherever we go.